I know many more of you then I want to admit don't watch the Pacers play on tv. Actually I think this is the best quote I got from my blog the other day:
okay so I'm going to give her some MAJJJJOR slack on this one. She doesn't live in Indy. She obviously doesn't have ESPN blasting on her TV everyday [weather she's forced to or not...like I sometimes am...]
but the rest of you? You should know who the Pacers are. And therefore know who El Pacero is.
But for the ones who don't. He's basically the coolest superfan ever. He's that guy running around in a Luchadore mask at all the Pacers games that you see and think to yourself "MAN THAT GUY IS AWESOME!" Well that's what I thought/still think atleast...
He's pretty much a legit local celebrity too. Don't belive me?
Boom. See? I mean, have

YOU

ever been on Pacers.com? OR in ESPN magazine? Me either. Henceforth, he's a local celebrity. Ya digg??
But you know what one of the coolest guys in a mask have in common? Other than our love for wrestling, because that's pretty obvious too, is that we both want YOU PEOPLE OF INDIANA to stop doubting your Pacers, and GET ON THIS BANDWAGON!!
Look it's truth time mmk? I never was a huge fan of basketball back in the day. I didn't really even understand it until a few years ago, because it was too fast for me to figure it out on my own. But thanks to the Hubs, I have finally found a love for this sport. It's pretty awesome, and actually not as confusing as I once thought, atleast not after going to some games and asking a million and twelve questions.
Also? Going to home games is probably the most fun I've ever had out... like ever. It is so fun there!! The screaming, the cheering, the cute players! [ahem Louuuuu!!!!!] All of it. It's a whole experience. One that if for whatever reason you can't get into basketball, I'm sure you could at least get behind having a good time with cool people.
So I want you to read my interview with this awesome guy. I want you to get pumped. I want you to want to see YOUR team do well in the playoffs. But in-case you don't really care what I want.... here's someone else who's opinon is automatically way cooler than mine.
I'm talking about the masked marvel.
The one.
The only El Pacero.
What's it like being a local celebrity?
Ah, I don't know about being a local celebrity. Maybe I'm good at being a weirdo who Pacers fans recognize, but that's about it. It's still strange to hear people yelling your name in the Fieldhouse, and you don't recognize them, but I'm kinda strange so it all ties in nicely.
How did you come up with El Pacero?
My father was a luchador and I wanted to follow in his footsteps. After
college, I moved to Mexico City to train in the art of lucha libre wrestling.
After Reggie retired, I felt it was my duty, my
obligation, to come back to show my support for your Indiana Pacers.
How long have you been El Pacero?
This is my third season in a row of wearing my work clothes to Pacers
games. I haven't missed a single home game and my streak is up to 120 something games now. It's hard to believe, but not really as hard as it sounds. Three seasons ago, it was depressing at Pacers game because we were always losing. El Pacero seemed to cheer up people after losses, and cheered up myself, and three years later I think I'm stuck in my work clothes!
So be real with me, are you really a womans champion?
Yes, I am really the Women's Wrestling Champion of the World. It's kind of confusing to some people because I am a man, a very manly man, but I only wrestle women. It's a lot better than the alternative. Who wants to roll around with sweaty guys?
How long have you been a die hard Pacer fan?
I've been a Pacers fan ever since I can remember. My first memory is in
Market Square Arena with my basketball team in like 3rd grade. Our coach was one of the doctors for the Pacers, and someone got hurt so he had to leave all of us to go back in the locker room. I still remember how jealous I was!
What's your all time favoritre Pacers moment that you've seen in the stands?
My favorite moment was probably in Washington DC two years ago at a game against the Wizards. Jim O'Brien benched Roy Hibbert right before he was about to get a triple-double, and I've never seen Roy more furious. It was awesome.
What's your favotire moment this year?
There are a lot of favorite moments from this season already! I drove 18 hours straight to Orlando and went to all three All-Star Game events to cheer on Roy Hibbert and Paul George. I went to Detroit for the Pacers vs Pistons game on New Years Eve which was a blast. Thirty four of us Area 55 members made the trek to Milwaukee to take on their Squad Six fan section. We destroyed them, took over the arena… and oh yeah, the Pacers won, too!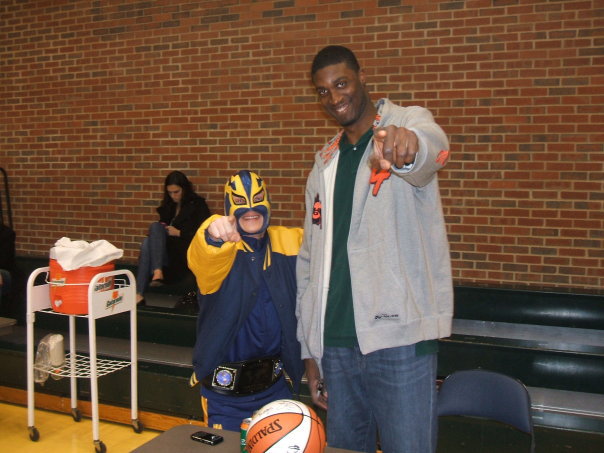 How awesome is it cheering on with the members of Area 55?
Being a member of Area 55 is a lot of fun. This is our second season and we're pretty much like a great big family. It will be weird when it's finally over and I have to return to sitting in a seat and trying to be a normal fan.
What was that like auditioning for it?
The first year, I uploaded an audition video telling Roy why I should be a part of Area 55. Then I showed up to the live audition and sang a short song about him accompanied by castanets. This past season I wrote a 100% original composition, accompanied by my ukulele, about Roy Hibbert and I think he loved it long time.
Who comes up with the chants?
We all come up with the chants together. We have a lot of standard chants, but every game we seem to come up with new chants, mostly to make fun of the opposing players and try to get in their heads.
Who would you like to see the Pacers play in the playoffs?
At this point, I would be happy to see us play against the Dwight
Howardless Orlando in the first round of the playoffs. We will destroy them!
Who do you think the biggest pick up has been this year? David West, George Hill, Lou Amundson, or Barbosa?
I think David West was the biggest game changer to the chemistry of our team. The Pacers having Hill at the starting Point Guard position has also been a big difference maker, so it's probably a toss-up between those two. Lou has made the biggest impact on the fans. LOOOUUUUUUUU!!!!
How many of the players have you met?
I'm not really an autograph kind of guy, and not sure all the players are crazy about the masked man, so I tend to keep my distance. I've met Roy Hibbert a bunch though, and he is the nicest guy in the world.
Do you have more than one mask?
I have several masks, but I usually wear the same one. That's what the smell is.
Does the lack of national attention on the Pacers upset you? Or do you think the team is better under the radar?
I don't believe the Pacers being kept a secret is a good thing, or will get us any more wins. I'm not surprised by the lack of attention in the national media, but I am disappointed it has taken the local media this long to start to focus on the Pacers.
Why do you think people aren't showing up to the games?
That's the question of the season. Some people say Indy is a bandwagon city. The other thing I hear a lot is that the Pacers are still a bunch of thugs. The brawl happened over 8 years ago, the Pacers got rid of all the trouble makers, and rebuilt themselves in the promised three years. We're third in the East now and have the best record in the NBA for the month of April. My biggest fear is that people still don't know that the Pacers are good again. The Pacers are now a great basketball team Indy! Wake up!
What do you think people who don't show up to the games are missing out on?
You can sit on your couch and watch the game for free, but you are missing out on all the fun and excitement of watching the Pacers win live! The cheering, the laughing, the booing, the chanting, the partying… once you start going to games you can't stop. We have won so many games this season, it's just crazy compared to past seasons. If you haven't gone to a game this season, you missed out on a truly memorable ride that brought back the Pacers Basketball we all love and remember.
Look for El Pacero and his 1976 AMC Pacer (the El Pacero Mobile) at all the Pacers Playoff Games. The Pacers Tailgating Organization (PTO) has been going strong for two seasons now and will definitely be partying for the Playoffs! They're at South and Penn just north of the Arby's, so don't be a stranger Indy!!
Go get your tickets to the playoffs already!! They're flying off the shelves FAAAAAAAAST. Honestly, I was in a mini war with Ticketmaster on Monday trying to get ours... it was crazytown. But in all the most amazing ways! And honestly? Tickets aren't that expensive!!! We got ours [two of them] for $45 plus all the stupid fee's they add on at the end!! You can't beat that you guys.... you just can't.
And when you see me or El Pacero, or La Pacera there, say hi!